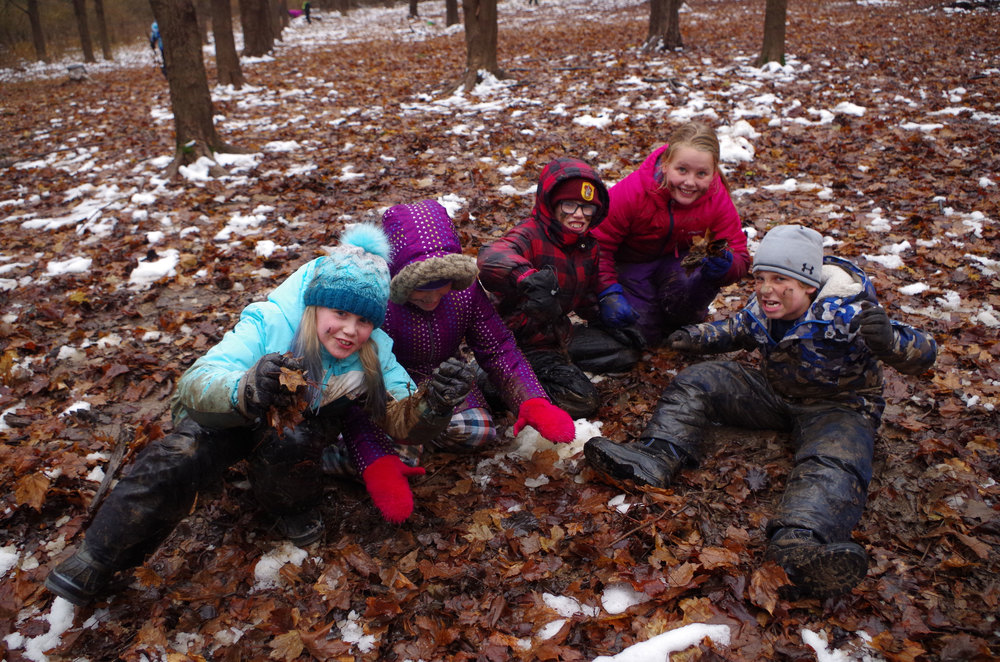 2019 November TimberNook Experience
Melanie Kerr
Friday, November 22, 2019
A big yellow bus arrived at the Pecatonica Elementary School at 11:55 am on Tuesday, November 19, 2019 and 4th grade classes, dressed in their warm weather gear, loaded up and headed out to the Pecatonica River Forest Preserve for a TimberNook Experience.

The students and staff hiked along a trail where the Forest seemed conflicted with Fall leaves still on the trees mixed with Winter snow on the ground. They followed a TimberNook leader to their camp and formed a circle to introduce themselves and tell what animal they would be if they could be any animal. Two rules were covered: "Be kind to nature." and "Be kind to each other." They went over fire pit expectations and then were led to their play experience site. Deliberately scattered about the woods were tires, sticks, logs, blankets, rope and many other items available for them to use. A story about "building a nest" was read aloud and once it was finished, the students were encouraged to build their own nests, homes or forts or just simple play.
Students were happy to get started on their adventures as the adults stationed themselves around the perimeter to keep watch. The children began engaging in outdoor activity and some ran directly to the items they wanted for building projects...some just ran. A boy found a really long tree limb and his buddies hurried to help him carry it back to their base. Five friends pretended they were cave-people and used the forest floor for camouflage. One group took advantage of the opportunity to be allowed to throw snow, and a couple of teams built tire swings way up in the trees! After activity time all the classes came back to the fire camps to enjoy hot chocolate. It was a magical time where children could let their imaginations run free.
(All classes at the Pecatonica Elementary School participated November 15-20.)
Photos by Mel Kerr