How is Social Media Affecting You And Your Friends?
Melanie Kerr
Wednesday, December 18, 2019
Detective Rich Wistocki, who has spent his career as a sniper, police officer, and detective presented the negative, and sometimes dangerous side of Social Media to grades 5 - 8, school staff, and community members in the Pecatonica High School Commons Tuesday morning, December 10, 2019. Detective Wistocki shared his knowledge and experience in a captivating presentation to better equip our students, staff, and community to navigate the digital culture.



KNOW WHAT APPLICATIONS STUDENTS ARE USING


Detective Wistocki engaged students as he referenced many social media platforms applications (Apps) such as Snapchat, Instagram, and TikTok to name a few that require age limits.

AGE LIMITS



Parents should always make sure their children are in compliance with age limits and never lie about their child's age because someone may think it's ok to send them adult content if they think the child is older.
WHERE DOES THIS HAPPEN?



It does not happen somewhere else! Anyone who is online can become a target.

PAY CLOSE ATTENTION TO ONLINE USERS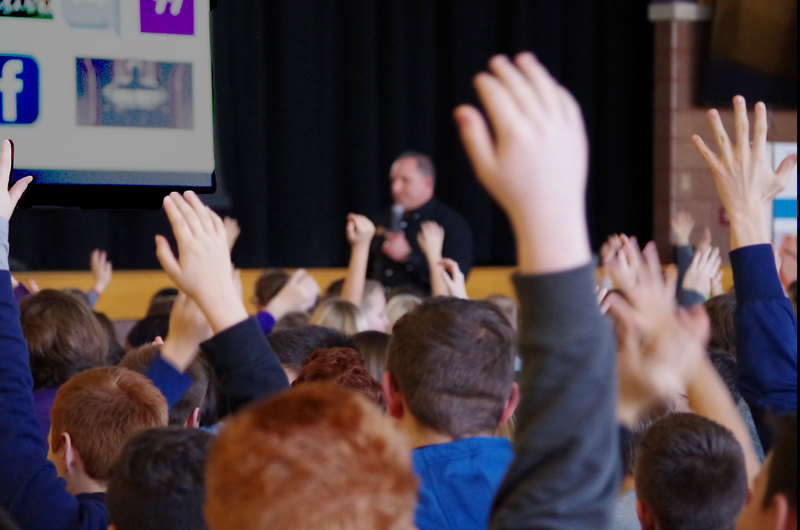 Detective Wistocki implored students to pay close attention to actions an online predator might use to groom them into a "sextortion' situation.

A NEW WORLD OF GAMING - KEEPING KIDS SAFE - RED FLAGS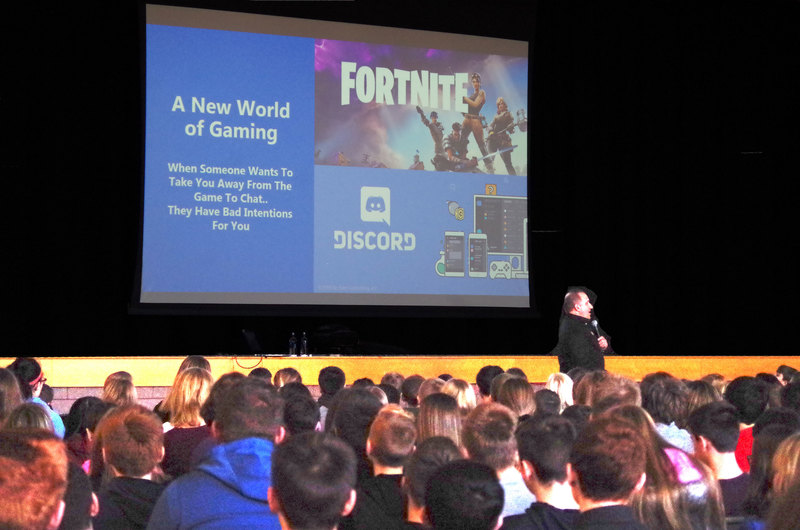 Please take note of the following as you navigate the internet, social apps and gaming sites:
Never let an "unverified" user take your child off a social networking or gaming site to a private platform that can't be monitored such as "Discord"

Be alert to users who "Pretend" they are a friend. They specialize in making their victims feel good about themselves by complimenting them, "you are so beautiful" "your muscles are so big and strong". Once they have the child's trust they begin talking the victim into sharing photos or request to video tape them. Once they have the content, they "extort" the child or teenager into producing more photos and videos. Many children end up "cutting" or "killing" themselves because of embarrassment or shame of what they have been coerced into doing.

If an online user says "You owe me a picture" they have bad intentions for you. Detective Wistocki taught the students to respond by saying, "I don't owe you Jack!"

No one should talk to your child or teenager using a sexual tone.

No one should ask your child or teenager to meet privately somewhere.

Predators Insist they do not have a Webcam to watch their victims without being seen so that victims cannot discover they are a fraud or be able to identify them.

WHAT ARE INTERNET CRIMES AGAINST STUDENTS



Our students are vulnerable to several crimes and we must stay diligent with education so we can keep ourselves and our children and teenagers from becoming victims.

STUDENTS NEED PARENTS TO UNDERSTAND THIS COMPLEX DIGITAL COMMUNITY


Detective Wistocki reminded students that they own nothing until they are 18. They do not have a right to privacy and hiding accounts and interactions from their parents is risky.
Detective Wistocki encourages parents to tell their children to come to them by giving them a "Golden Pass" for coming forward.

VERIFY, VERIFY, VERIFY

Detective Wistocki talked about how "Cyber-bullying" is one or a group of people making a person feel bad about themselves or make them do things they normally wouldn't do just for the fun of it.
ALWAYS REMEMBER:
Anything you share can be used against you
Nothing is private

EVERYONE HAS A DIGITAL IMPRINT

No one is Anonymous
Anything you share can be used against you

LAWS



No one has the right to set up a social media account in your name.

VERIFY EVERYONE!


If you can't Verify the person by userid, name and address they have bad intentions for you.


THE POLICE NEED EVIDENCE



Predators need to be stopped.


REPORT ANY SUSPICIOUS ACTIVITY IMMEDIATELY



If you can't Verify the person by userid, name and address they have bad intentions for you.


HOW TO GET A SCREEN SHOT



Screen shot everything. Save it to flash drives to give to Police. Do not investigate yourself.


CONTACT RICHARD WISTOCKI


ADMINISTRATORS WORKING WITH LAW ENFORCEMENT



Thank you Heather Baker for setting up this important assembly for our middle school students and Rich Wistocki for impressing upon students that "Your Digital Footprint Does Matter".


STUDENTS



Know what you are responsible for as an online user.


STUDENTS SHOULD ALWAYS REMEMBER THE 3 P'S WHEN ONLINE

Follow the 3 P's - (Online activities should be something your Parents, Pastor or Principal would approve of).


WHAT DID THE STUDENTS THINK?



As they left the PHS Commons they shared they liked the presentation. They seemed to be aware of many of the platforms but knew to setup chats by invitation only.

The big thing they took away was Verify, Verify, Verify….

Students represented Pecatonica well by their good behavior during the assembly.