Pecatonica High School Key Club Hosts Another Successful Mr. PHS Pageant
Michelle Johnson
Wednesday, March 04, 2020
On February 29, 2020, twelve young men took the stage at Pecatonica High School to compete for the title of Mr. PHS. Co-chaired by Key Club members Emma Gocken and McKenna Handy, the third-annual Mr. PHS pageant raised over $4000 in support of The Ocean Cleanup and the Key Club. McKenna Handy and Kelton Gann, the 2019 Mr. PHS, emceed the event. Throughout the night, five judges and audience members were treated to a grand march, a choreographed dance, a dash for cash, and a lot of smiles and laughter. The twelve contestants began fundraising the week before the event, and on the night of the pageant competed in the categories of formal wear, outfit of choice, talent, and question. At the end of the night, awards were given and the top two contestants were announced, leading to the crowning of senior Kolton Mathieu as the 2020 Mr. PHS.
The Mr. PHS Co-chairs and Advisor Michelle Johnson wish to thank all the contestants, escorts, parents, judges, audience members, behind-the-scenes workers, and businesses who helped make this event such a success. A special thank you also goes out to Marde Gann for photographing the event. More photos and a video of the event can be found on the Pecatonica Fans Club Facebook page.
Backdrop designed by Key Club member Annah Dulaney

Contestants and their escorts - Alana Newell and Mikey Peterson, Paige Moore and Bryce Fitzanko, Maddy Carlson and Dylan Berry, Bella Hillary and Ryan Salamon, Kaiya Black and Hunter Hoffman, Reese Williams and Korbin Gann, Faith Mehlhausen and Tyler Singley, Taylor Lapp and Brock Dornink, Ashley Burrow and Kolton Mathieu, Mina Batista and Rocco Rovella, Nevaeh Nunez and Alex Jenkins, Alli White and Armando Batista.

Best Dancer - Freshman Korbin Gann

Most Photogenic - Sophomore Hunter Hoffman, escorted by Kaiya Black

Best Dressed - Freshman Mikey Peterson, escorted by Alana Newell

Best Outfit of Choice (Ricky Bobby from Talladega Nights) - Hunter Hoffman, escorted by Kaiya Black and Jack Ziegler.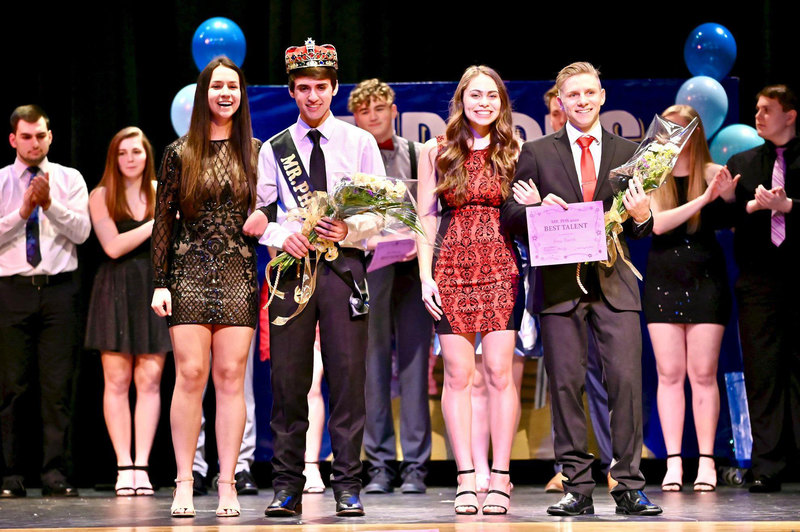 First Runner up and Best Talent (vocal performance of "Ain't That a Kick in the Head" by Dean Martin) - Senior Rocco Rovella, escorted by Mina Batista. Mr. PHS 2020 and Best Answer - Senior Kolton Mathieu, escorted by Ashley Burrow.