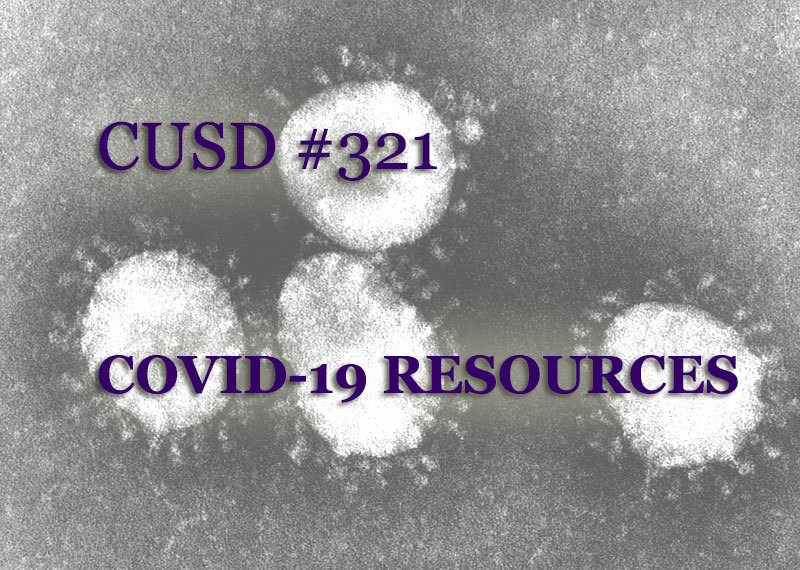 COVID-19 RESOURCES - Updated Wednesday June 24, 2020
Pecatonica CUSD 321
Friday, March 13, 2020
June 24, 2020
Gov. Pritzker Announces Guidelines for Illinois Education Institutions to Safely Return to In-Person Instruction as State Advances to Phase 4 of Restore Illinois Plan
Guidelines for IL Education Institutions to Safely Return to In-Person Instruction
June 4, 2020
State Announces Community Based Testing Sites Open to All

June 3, 2020
Illinois State Museum's Super Saturday is Movin and Groovin Online.pdf
May 26, 2020
Restore Illinois Child Care Guidelines
May 21, 2020
COVID-19 Remote Learning Plan PCUSD 321
May 13, 2020
Illinois e-News Release - GOV. PRITZKER ANNOUNCES NEW "ALL IN ILLINOIS" KIDS CONTENT SERIES FEATURING ILLINOIS MUSEUMS AND ATTRACTIONS
May 12, 2020
FAQ FOR BUSINESSES CONCERNING USE OF FACE-COVERINGS DURING COVID-19

May 6, 2020
Illinois e-News Release: Governor Pritzker Announces Restore Illinois: A Public Health Approach To Safely Reopen Our State
Illinois Department of Human Services (IDHS) Call4Calm Service Release
May 5, 2020
May 4, 2020
INTERIM CORONAVIRUS DISEASE 2019 (COVID-19) GUIDANCE FOR FOOD/BEVERAGE SERVICE OWNERS & OPERATORS
IDPH & ISBE JOINT GUIDANCE REGARDING COVID-19 AND SCHOOL GRADUATION CEREMONIES

May 1, 2020
April 30, 2020
Letter from Jill Folk, District School Social Worker
April 23, 2020
April 20, 2020
PARENT STUDENT COMMUNITY LETTER APRIL 20, 2020

GOV. PRITZKER ENLISTS WELLINGTON THE PENGUIN IN NEW 'ALL IN ILLINOIS' VIDEO AT SHEDD AQUARIUM

ISBE - REMOTE LEARNING DAYS WILL CONTINUE THROUGH THE END OF THE SCHOOL YEAR
April 15, 2020
April 9, 2020
LETTER TO PARENTS, STUDENTS AND COMMUNITY MEMBERS, APRIL 9, 2020
April 6, 2020
Mrs. McGrew's (Pecatonica Nurse) Hand Washing Video
April 3, 2020
PARENT AND COMMUNITY MEMBER LETTER APRIL 3, 2020

April 1, 2020
Gov. Pritzker Announces Extension of Stay at Home Order, Suspension of On-Site Learning in Schools Through April.
Announcement
PECATONICA SCHOOLS CLOSED THRU APRIL 30, 2020 - PECATONICA SCHOOLS WILL NOW BE CLOSED THROUGH APRIL 30, 2020. PLEASE CONTINUE TO MONITOR THE DISTRICT'S WEB SITE AND FACEBOOK PAGE AS WE CONTINUE TO POST INFORMATION AS IT BECOMES AVAILABLE. - https://www2.illinois.gov/Pages/news-item.aspx?ReleaseID=21326
March 28, 2020
REMOTE LEARNING RECOMMENDATIONS during COVID-19 EMERGENCY
Letter From Superintendent Faller - March 28, 2020
March 18, 2020
Parents are Encouraged to Download School App
March 16, 2020
MESSAGE FROM SUPERINTENDENT FALLER - Student Lunch
https://www.pecatonicacommunityfoodpantry.com/

PECATONICA COMMUNITY FOOD PANTRY Newsletter
Parent and Community Letter from Bill Faller, Superintendent
March 15, 2020
Closed school for Monday, March 16, 2020
Social Distancing: This is Not a Snow Day.
March 13, 2020
Governor Pritzker of the State of Illinois has issued a directive that all schools will be closed beginning Tuesday March 17 through Monday March 30
March 13, 2020 Updates
CORONAVIRUS DISEASE 2019 (COVID-19) MARCH 13, 2020 PARENT LETTER
Coronavirus and Emerging Infectious Disease Outbreaks Response
Parent Resources for talking with Children about COVID-19
Resources for keeping your home safe from COVID-19
Talking to Children About COVID-19 (Coronavirus) A Parent Resource
March 9, 2020
ISBE - Guidance For Schools on Coronavirus
ADDITIONAL RESOURCES
Stop the Spread of Germs - English
Stop the Spread of Germs - Spanish