Next week kicks off the 14th annual PHS Food Drive for the Pecatonica Community Food Pantry! If you don't have a student in high school, but would still like to make a donation, items may be dropped off at the high school office during the school day.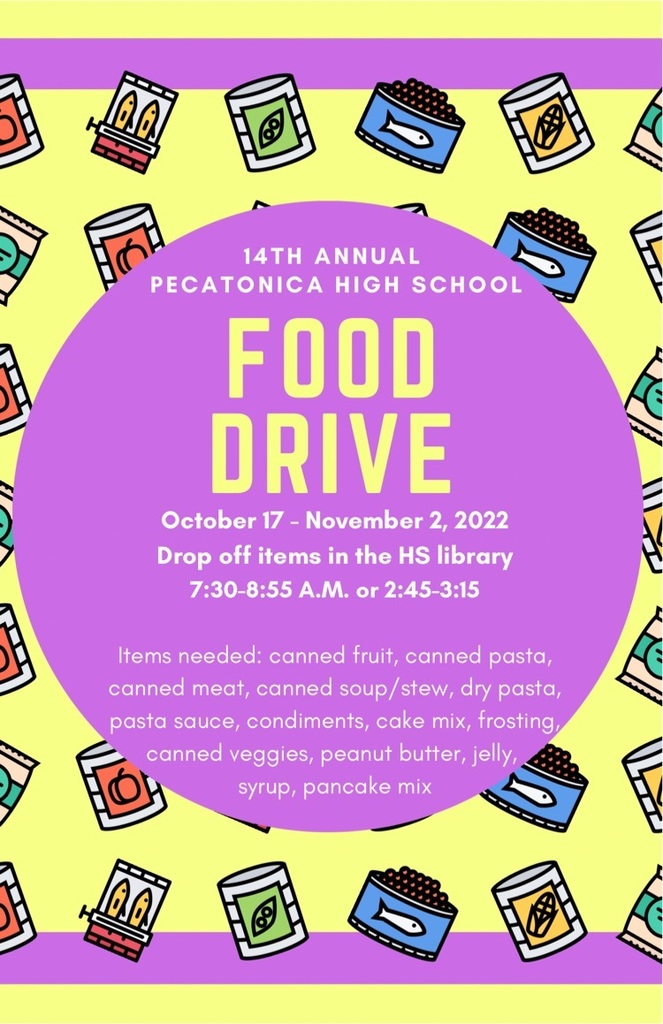 The following have won the PHS October Student of the Month Award: Senior – Aidan Mulcahy, Junior – Samantha Deppe, Sophomore - Maren Davis, and Freshman – Brianna Carden. Congratulations!

After two long years, we're bringing back the Dash for Cash! Between the first and second varsity volleyball games at the October 4 Pink Out night, PHS Key Club will be hosting a 60 second Dash for Cash in support of the Breast Cancer Research Foundation. See you there, and thank you for your support! 🎀🏐🎀

October 3-6 Actor Practice for the FALL PLAY Monday - 3:30-5:30 - HS Café/Stage Tuesday 3:30-5:30 - HS Café/Stage Wednesday - NO PRACTICE Thursday 3:30-5:30 - HS Café/Stage Friday -NO PRACTICE

Play practice is cancelled for Wed 9/21, Thurs 9/22, Fri 9/23 and Mon 9/26. We will see all actors on the HS Stage on Tuesday 9/27 from 3:30-5:30PM!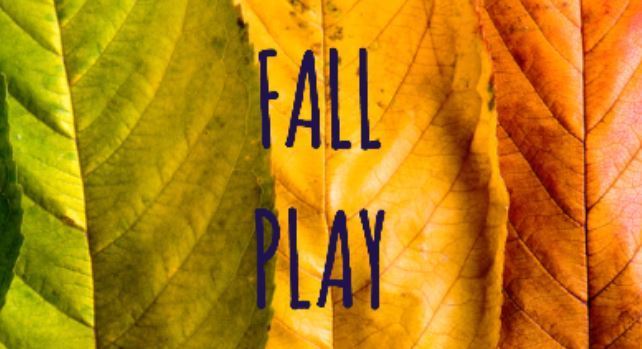 Fall Play Practice Week of Sept. 19-23: Monday 3:30-5:30 - HS Library, Tuesday 3:30-5:30 - HS Library, NO PRACTICE - Wednesday, Thursday 3:30-5:30 - HS Library, Friday 3:30-5:30 - HS Library.
PEC #321: Friday, Sept. 16th is Unity Day at the Pec Elementary. There is also a menu change due to the activities planned for the day. Lunch will be a PB& J Uncrustable, Chips, Bananas, and Baby Carrots instead of pizza.

​On Wednesday September 21 the Elementary school will be dismissing at 1:35 pm and the Middle and High Schools at 1:45 pm.

This week is homecoming week at PHS! Here are the freshman(yellow), sophomores(green), juniors(blue), seniors(red) and teachers dressed up for Class Color day!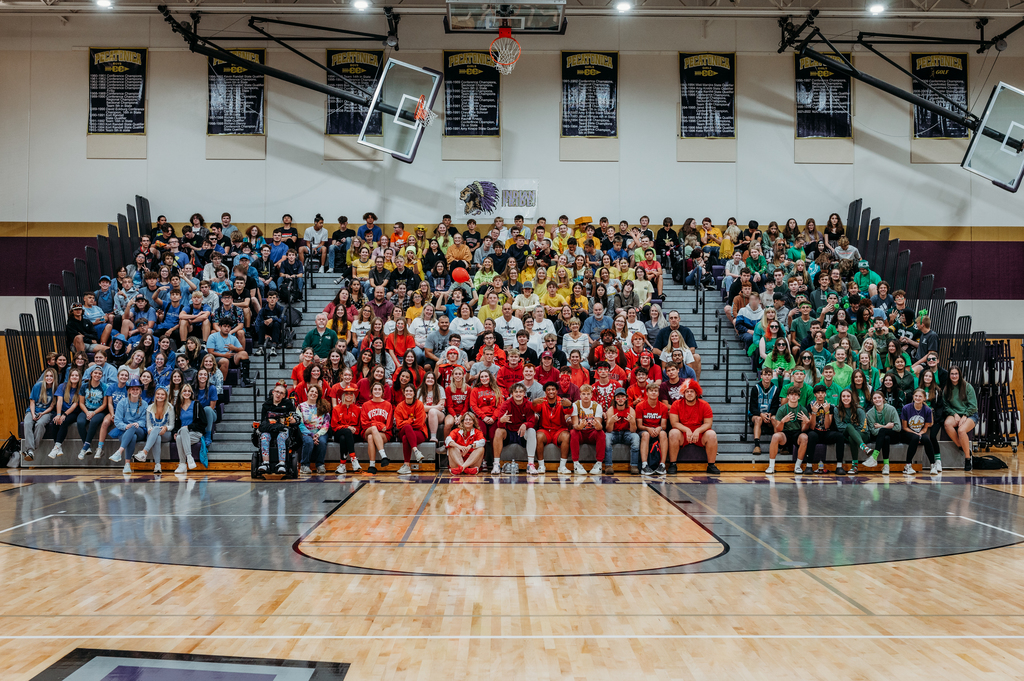 September is childhood cancer awareness month, and far too many children are affected by this awful disease. When one of our own students was diagnosed, he was blessed by a foundation called Cal's Angels, named after Cal, a boy from South Elgin who lost his battle to leukemia in 2006 at the young age of 13. Cal's Angels is a pediatric cancer foundation with a mission of granting wishes, raising awareness, and funding research to help kids who are fighting cancer. This week, we will be selling Cal's Angels t-shirts leading up to our Go Gold Homecoming football game Friday night! Shirts will be sold at the high school during lunches. Our goal is to sell out of shirts and have everyone wear them to the Homecoming game on Friday night! The theme is school spirit, so the gold color will be perfect! Remaining shirts will be sold Friday night, before and during the game. Let's show them that we may be a small town, but we can raise big funds! 💪🏻🎗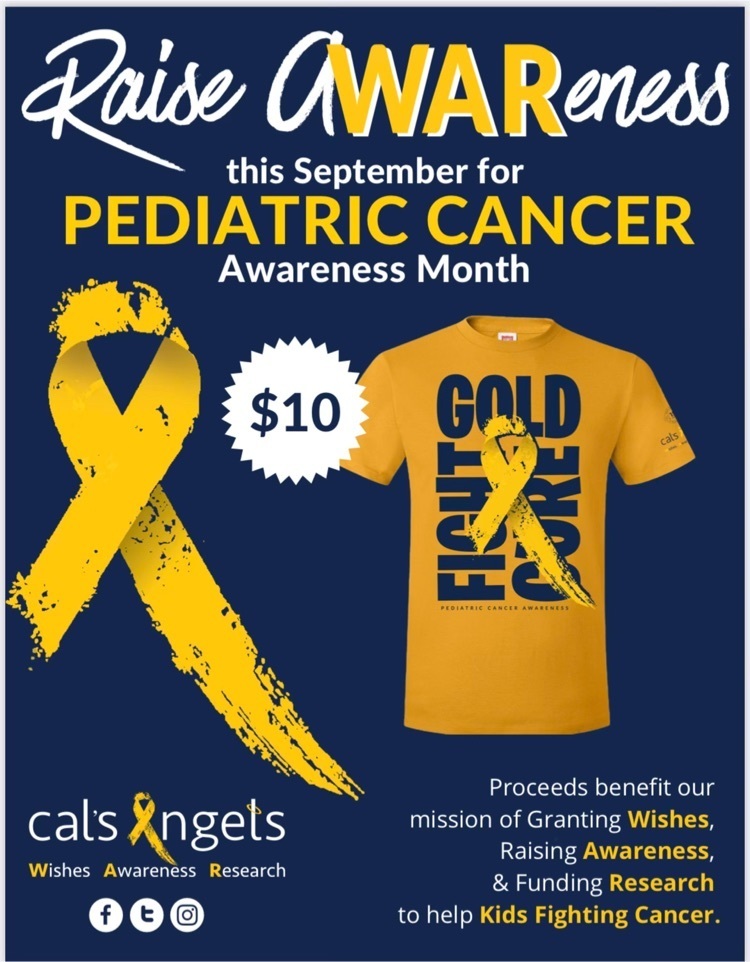 It is with great pride to announce the following have won the September Student of the Month Award: Senior – Kaden Degner, Junior – Addison Hamilton, Sophomore - Eden Stukenberg, and Freshman – Delaney Handy! Congratulations!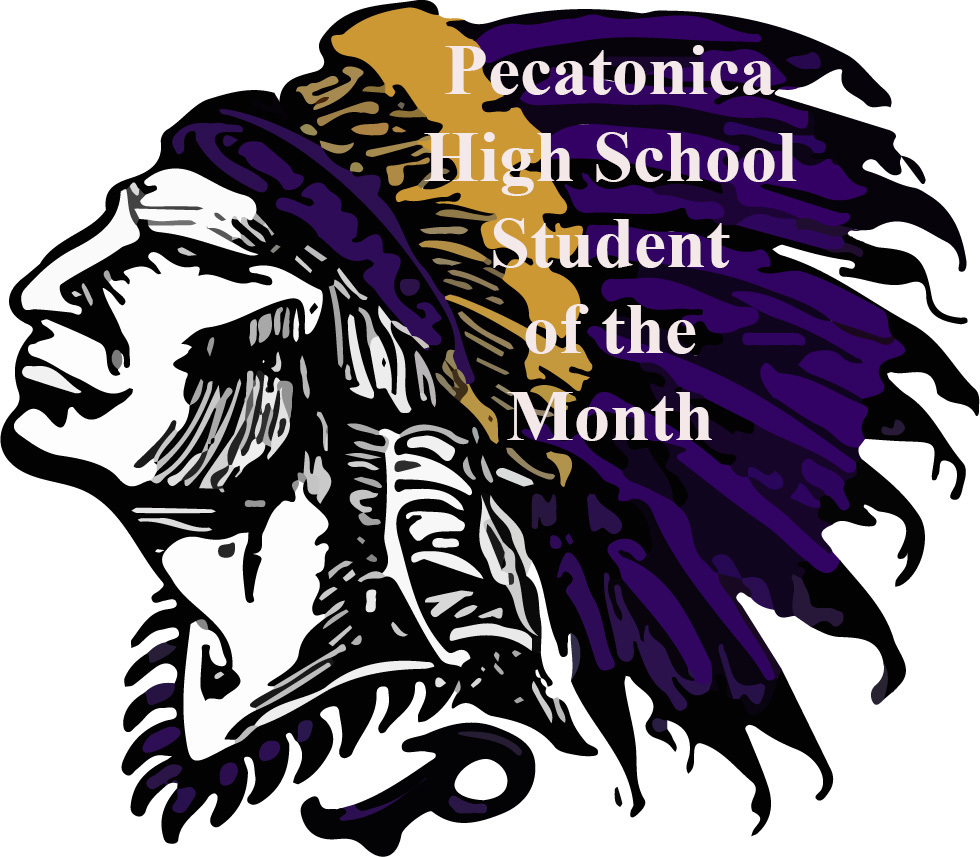 Just a reminder that today (Wednesday September 7) is an early dismissal day. The elementary school will dismiss at 1:35 pm and the middle and high schools at 1:45 pm.

EXTRA HS YEARBOOKS are available during regular HS office hours (7:30am-3:30pm M-F) Cost: $70. Graduated Senior Yearbooks are also available for pick up.

Fall Play practice for ACTORS in grades 5th-12th starts September 12th-15th, Monday-Thursday in the HS library 3:30 to 4:30pm! No try-outs! If you attend rehearsals, you will get a part! Attendance and talent will determine specifics. More info in the MS/HS announcements.
Get your Pecatonica Elementary School spirit wear at
http://Www.northstargfx.com
. Order and pay in the online store before noon on 9/12!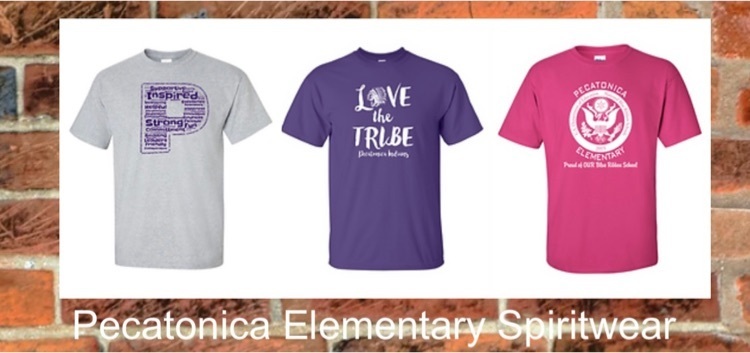 Tonight is the first Pec-Durand-Dakota home soccer game at Pecatonica Middle School at 4:30. The boys will face Stillman Valley. If you plan to attend, please park in the new main parking lot at the middle school.

On Wednesday September 7, the Elementary school will be dismissing at 1:35 pm and the Middle and High Schools at 1:45 pm.

Just a reminder that tonight is the first home football game of the 2022 season. The Rivermen will take on the West Carroll Thunder. We will also honor our seniors for football, golf, band, cheer, and poms. 6:00 Senior Parents and Students should be at the stadium 6:15 Senior Parents and Student Introductions 7:00 GAME TIME!!!
Tonight is the night for Popsicles with the Principal! Let's hope for no rain! Please join Mrs. Brockway from 5:30-7:30 at the elementary school. We will play on the playground and blacktop, decorate the walks with sidewalk chalk, and enjoy some fun together!